In the Garden | Upcoming Events | Books By Linda | Recipes
Bark, Compost & Fill Dirt | Garden Tips | About Linda | Contact

Hours of Operation:
CLOSED for the Season
"Thank heavens for your e-mail. You are the first sign of spring and much appreciated."
--Susan
"Linda, you continue to amaze me and bless me with your very helpful and educational information you impart to your fellow gardeners. Thank you, thank you!"
--Judy Mackey, Sisters, Oregon

2015
Click here to see the archives of gardening tips that dates back to 2007. See years of helpful gardening advice for our cold climate gardeners.
"Thank you for your wonderful newsletters! They are so timely and helpful."
Diane
Bend, Oregon
2015 Gardening Tips
2/23/15 - Prepare your Garden for Spring
2/23/15 - Don't Rush the Season
3/09/15 - Grassology
8/10/15 - Plant or Transplant?
8/10/15 - Find the Right Spot
8/10/15 - Time to Seed a Lawn
7/24/15 - Planting in Summers Heat
8/20/15 - Spotted Knapweed
8/20/15 - Cutter Bees
Prepare your Garden for Spring
Gardens Need a Foundation
Now is the time to work up those new garden beds you planned throughout the winter. Number one is supplying a good foundation for your plants. I recommend 1/2 of a GOOD garden compost and 1/2 of our native soil (remember compost is NOT a fertilizer). We carry compost by the yard and in bags.
Buyer Beware
It is way too early to be thinking about planting. The box stores are going to tempt you with beautiful plants, trees and shrubs, either in full bloom or that have leaves. Look around - do you see leaves on our trees or plants blooming? I was in one of the local box stores yesterday and a woman had 2 packaged roses in her cart, both had leaves. She is destined for failure. If she sets these outside at 18 degrees the frost is going to kill them. If you insist on buying, pick the plants that are dormant.
Know the Facts BEFORE you Buy
You have seen it advertised on TV. I hesitate to call it a scam, BUT there are definitely some red flags to consider. There is no listing on their web site listing what type of seed is included in the mix (not all seed works in our area). You can purchase a mix for our area right here at L & S Gardens. Why take a chance.
They claim to have a 30 day money back guarantee. This is not enough time to get it growing.
If you have numerous dead patches, excessive weed growth or bald spots, this grass seed will not make it green and lush as they advertise.
The ads say little watering is required. For root growth you do need to water. This is not rocket science. Putting in a lawn is hard work, so purchase the best perennial seed. I suggest 1/3 Kentucky Blue, 1/3 Turf Type Rye and 1/3 Fescue.
Get your Garden Buddies Together and Start Pulling!!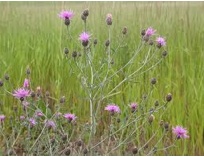 Montana and Wyoming have lost their fight with Knapweed. The weed has taken over range land and national forests. It has crowded out native plants and wildlife habitat. We need to fight this weed so that it does not take over our landscape.
Do NOT Mow or Weed Whack. Knapweed produces an enzyme into the soil when mowed or weed whacked that changes the soil biology, so all of the water in the soil goes to the roots of the knapweed and kills other plants. In very large patches this has even killed trees.
DO NOT Rotter Till. The seeds will sprout in the disturbed soil, and the seeds can lay dormant up to ten years. Knapweed likes poor soil, so the best course of action is to pull the weeds, bag and dispose of them. In the early spring you can spray a weed killer as they start coming up, in the summer PULL as they continue to come up (we do NOT want them to flower). Keep going back to the area and pull - repeat-repeat-repeat. Deschutes county can charge an owner of a vacant lot $1000.00 a day from the date of contacting the owner.
This information was shared with us by Kathy Cushman, noxious weed captain. We have pamphlets in the nursery dealing with noxious weeds or you can pick a pamphlet up at the La Pine Chamber of Commerce.
Want to help us Put the Shine on La Pine? Working together we can make a difference. Want to pull on your own? You can pick up the large yellow bags at Little d Tech or the Chamber office.
Pile large yellow bags filled with Knapweed only on the vacant lot kiddy corner from US Bank on Morson St.
"don't worry, this little insect does no harm"
We have had many of you bring us leaves with the edges cut out or perfect circles. Don't worry, this is our friendly cutter bee harvesting pieces of leaves to make their nests. They will not kill your plant or tree. Just admire their work and how diligent they are at finding materials for their nests.
Don't let summer heat keep you from adding plants to your Garden

A misconception about gardening is you never should plant during summer when it is hot. But this only applies when transplanting or dividing, which is digging up and moving all or part of a plant that is already established.
As daily temperatures rise, you still can fill the empty spaces in your garden with perennials, annuals, trees and shrubs. Plant in the coolest part of the day. Add good compost to the planting hole, break up the roots, fill hole with water (let it absorb into the hole), set plant in, tamp soil, water.

Don't let summer heat keep you from adding plants to your Garden.

It is nearly impossible to dig up an established plant without destroying the roots. If you try to move the plant during the summer heat, when the plant is top-heavy with growth, the shock can be fatal. Save the transplanting to fall or early spring.
Now is the perfect time to put in a new lawn or over seed an existing lawn.
Start with a level weed free area, water to a depth of about 8 inches, spread a pre-seeding fertilizer 10-20-10 over the area, water or 30 minutes, lay down your lawn seed, cover with a fine layer of compost. Roll the area to firm up the seed and compost. Keep the area damp but NOT soaked.
We carry a perfect blend of grass seed for our central Oregon lawns.

One of the great things about planting in summer is most plants are in their full flush of growth. This allows you to better visualize the total effect because you can see a plant's form and the color of its foliage or flower. The added dimensional aspect aids landscaping choices.
We have new perennials arriving weekly. Come check out what is blooming and how it they will fit into your landscape.
L & S Gardens
"28 Years in Business and Still Growing"
linda@lsgardens.com