This site is under maintenance at this time.
In the Garden | Upcoming Events | Rhubarb Festival | Books By Linda | Recipes
Bark, Compost & Fill Dirt | Garden Tips | About Linda | Contact

Hours of Operation:


Closed for the season.

This site is under maintenance at this time.

"Hardiest Plants, Trees and Shrubs in Central Oregon"
L & S Gardens is CLOSED for the Season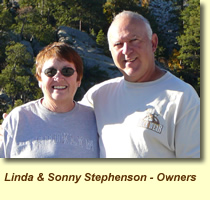 Give us a call to have bark, compost, fill dirt, 3/4 minus aggregate, pea gravel, and 1"-3" River Rock loaded or delivered.
Please click here to see the archive of Linda's "Words from the Garden". This is a must visit link that gives you up to date gardening information.
 
Don't forget to register for some of the upcoming seminars, classes and events at L & S Gardens. Go to my events page for more information.
8th Annual Rhubarb Festival
Join us at the 8th Annual Rhubarb Festival! Click here for more information.
My Rhubarb cook book is now available in Bend at Newport Avenue Market, in Sisters at Paulina Springs books and in La Pine at Books, Boxes and BS and of course here in the nursery. This book walks you through everything you ever wanted to know about Rhubarb, plus dozens of Rhubarb recipes. Remember - it is not just for pies, you will LOVE my Rhubarb Salsa recipe.
L & S Gardens
"28 Years in Business and Still Growing"
linda@lsgardens.com
541-536-2049
Oregon Department of Agriculture
Inspection Report - 5/29/13
"Inspection Perfect!
Plants healthy without signs or symptoms of pests or pathogens.
Greenhouses spotless, no weeds, clean of debris.
Beautiful!"
"Great experience, as always. Linda helped diagnose and recommend treatment of some trees."
"I tell anyone and everyone that L&S Gardens is the only place to get plants that will survive in CO. In all my years of buying perennials I've only lost 2 plants due to harsh winters! You folks ROCK!"
--Becki Schleede-Sylvester

"Linda, love the web site, it is now in my favorites!"

--Judy
"Linda, you continue to amaze me and bless me with your very helpful and educational information you impart to your fellow gardeners. Thank you, thank you!"
--Judy Mackey, Sisters, Oregon
"THANK YOU for all the time you spent with our Woodside Ranch
gardening group. We had the best time and learned so much! You provided an
absolutely delightful day. We have so much information to share, brought
home so many beautiful plants to beautify Woodside Ranch, and are spreading
the word far and wide about your magnificent nursery (and you!). I sent
photos to Brian to post on our website and he will link your nursery to our
site. Hopefully you will get a lot of good publicity out of our trip, as
well. I already sent a note to all our Woodside gardeners telling how
wonderful it was! We'll be back to shop!! Again, thank you!"
Lynda
"I attended the Sisters Garden Club field trip to your nursery last Friday. I was very impressed with your presentation there. I've just completed 20 years in visual merchandising at World Market stores as Senior Art Director. Having toured many retail sites across the country I would have to say that you have created an all together charming and fresh interpretation of a country store."
Leotie Richards
"Here are the photos from my sister Anne!! We love L&S Gardens, we take our L&S Garden purchases camping with us. It is now in the ground and very happy but you can see it camped with us for about a week. L & S Gardens the only place to shop in Oregon.
See you Soon!!! My Pots look WONDERFUL!!! Your Staff is the BEST."
Ann and Linda